Preserve your school's or organization's achievements, culture, and history, in an interactive manner.
Would you like to showcase and preserve your organization's hall of fame members, achievements, culture, and history and do it in an engaging interactive manner?  Are you running out of space to display your achievements?  Digital Trophy Case is your answer.  Livewire's 'original' Digital Trophy Case is a state-of-the-art digital hall/wall of fame software solution to archive and display your organization's success stories via kiosks, interactive wall displays, and web sites.
Advantages of Livewire's Digital Trophy Case
Our Digital Trophy Case product suite offers the most comprehensive features and hardware to showcase your school's or organization's accomplishments. You'll benefit from:
In-depth showcases for sports, academics, clubs, fine arts, seniors, and campus life

Responsive design supports both portrait and landscape display
Highly Scalable and easy to add/import large amounts of data and photos
Tag media with people and years for a digital yearbook experience
A wide variety of kiosks to choose from as well as wall-mounted screens
ADA functionality to accommodate users of various heights and those in wheelchairs
Drill down into game results and bio details of rosters for every sport and season
Integrated digital signage to promote events or sponsorships through playlists of ads and other media
Web-based management with import functionality to easily customize, update and maintain your showcases
Highlight military and other services
Integration of event ticketing and other self-service functionality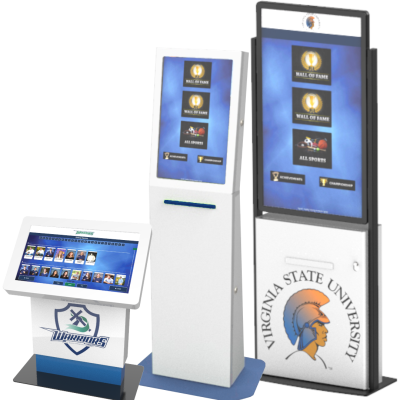 Digital Trophy Case Benefits
With the ever-growing digital world, Digital Trophy Case can help provide a new and interactive way to showcase all your achievements.
Digital Trophy Case can showcase information about your facilities, organization history, and events.
Digital Trophy Case provides the capability to showcase any awards or honors that your organization may have.
Whether you have 50 honorees or 50,000, Digital Trophy Case has the capability to handle an unlimited amount of information and media.
Our web-based Management Server Software is easy to use and access from anywhere at anytime.
With our Presentation Builder, you can customize each showcase to fit your needs.  We handle portrait, landscape, large and small designs.